Forager December 2022
December 2022 Edition
Agriculture & Natural Resources
Download (PDF)
Share this Newsletter
Additional Newsletters
Preview This Newsletter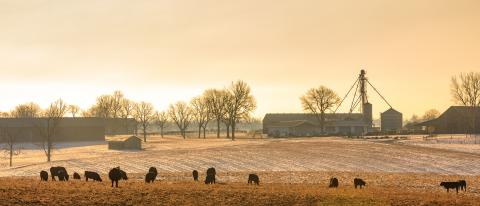 From the Ag Agent
Greetings All,
Well, winter is definitely upon us after that long, warm fall that we all enjoyed. But now hay feeding time is fast approaching and everyone is hoping they have enough to feed all the stock through the winter until the fescue pastures start to grow next spring.
It is also a good time to check those no-freeze waterers, if you have them, and make sure they are not freezing, if you haven't already.
Winter is also a good time to keep a watch out on your cattle as they tend to group tighter together to feed, drink and just stay warm. This tight gathering is when we traditionally see lice start to really impact the animals.
If you start to see their hair thinning out unnaturally, then take a look for lice. If you see them, treat all the cattle twice within a 21-day period. One treatment probably will not do the trick. Two should.
Be sure to have a place with a wind block for the cattle, horses, and any other livestock to get behind to get out of the wind. This may just be a shed or an alley in the barn or a row of trees or shrubs.
If you have an early winter calving herd, be sure to try to get the cows in a warm, safe place to calf instead of just out in the open spaces that during bad weather reduce the odds of the calf or foal surviving, especially if it is cold and wet.
And don't forget about our other four-legged companions—our dogs and cats. If they are outside animals, be sure to have a place for them to get out of the wind and a clean daily source of unfrozen water.
I also wanted to congratulate Ray Sammons, Mike Dixon and Bill Stewart for their 3rd place entries, in different categories of haylage, in the 2022 East Kentucky Hay Contest.
Lastly, I wanted to wish everyone a joyous holiday season for you and yours.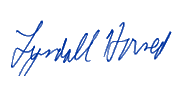 LYNDALL HARNED
County Extension Agent for Agriculture and Natural Resources
2022 Census of Agriculture
The first mailing for the 2022 Census of Agriculture was mailed out during the week of Thanksgiving. These were inviting you to reply to the census online. If you prefer to do them the paper way, those will be mailed out on Dec. 13.
I just want to reinforce how important it is to fill out and return the forms, either electronically or by paper means. These numbers help determine how money is allocated and spent at the federal, state and even county levels. If you do not stand up and be counted, then there will be less money allocated to help farmers.
This happens in many ways. Many of you have taken part in any number of cost-share programs, either through the Conservation Office or maybe the NRCS or FSA. These allocations that come to each of our local offices of those institutions are based on the Census of Ag numbers.
I hear from several people each time the Census of Ag comes around, which is every 5 years, that they don't want to fill it out because they don't want the government to know what they have or what they are doing. Well, news alert: They already know a lot of it.
If you pay property taxes, they know where your land is and how much you own. When you fill out your income tax forms, they know all that information. If you have a farm tax exempt number, they know the information tied to that.
I have also had people tell me the same thing about applying for cost-share money, "I'm not filling that form out; it's none of the government's business." Well, I tell you my view on that. If I can get $1,000 or however much it is, just by filing out a form with information they already mostly know, then I am doing it. The way I look at it is, if you don't apply, that is just more money for someone else.
But back to the point. If you do not fill out and return the census of ag, then the pot of money that all farmers can apply for shrinks, and that money will go to other programs that does not benefit agriculture or farmers.
So, step up and help yourself, your farming neighbors, and farmers and farming as a whole. Fill out and return the Census of Ag.
Cow and Heifer Slaughter Implications for Cattle Inventory
The following was adapted from an article by Josh Maples in the Cattle Market Notes Weekly from UK AG Economics.
As we approach the end of 2022, the picture is getting clearer on the number of heifers and cows being slaughtered for meat in the U.S., and what that means going forward.
Heifer slaughter is up about 5% over last year. Beef cow slaughter is up 13% over a year ago. Combined, 765,000 more heifers and beef cows were slaughtered in the first 10 months of 2022 than the same timeframe in 2021.
One thing that means is that there will be up to 765,000 less calves born next year than could have been.
Another way to look at it is to compare the starting cow and heifer inventory. Roughly speaking, when the proportion of slaughter to inventory is 40% or lower, we are adding cows to the herd to increase calf numbers. Anything over 40% means there will be less cows and heifers in the herd to have calves, and the total number of the herd will decrease.
And when I am speaking of the herd, I am talking about the national herd or the total number of beef cows in the U.S.
If the trend for 2022 continues for the next 2 months—November and December—then the number will be 47%. This means the total number of the U.S. beef herd would decrease somewhere between 4% and 5%. This would mean the national herd numbers would be a level not seen since 1985-86.
Less cows making less calves usually means the price for beef is going to increase at the grocery store. That is not always the case for the price beef farmers get for their cattle being sold, however. But usually, the live animal price does respond positively due to competition for the animals.
From a cow/calf cattleman's perspective, if you can keep extra heifers and maybe put off another year culling an older cow that you know is probably going to give birth and raise another calf, you may want to consider doing just that.
Keep in mind this is the beef cattle herd we are talking about and does not include the dairy slaughter animals. But that number is also potentially slightly decreasing or staying close to the same.
New CAIP Program
The next round of the County Agricultural Investment Programs (CAIP) program should be happening soon. All of the application paperwork from the county administrator, the Boyd County Conservation Office, was completed and sent to Frankfort, gone over, and approved, then back here for signing and then back to Frankfort for final approval.
At this point, the Conservation Office is just waiting for the last approval and the money to be deposited in their account. Then they will begin to advertise for farmers to get and complete the applications to be involved in this round of the cost share program.
When that happens, Extension and Conservation will host a couple of joint meetings. These will include a CAIP orientation program that will go over what the program is, what can be applied for, how to complete the application, etc. Everything you would need to know to apply for the cost share.
There may also be a program on how to complete the required Kentucky Ag Water Quality Plan. This plan is a legal requirement for all Kentucky farmers.
Speaking of that, there are a few things that are absolutely required to be eligible for CAIP funds. They are a current Ag Water Quality Plan and a USDA Farm Service Agency (FSA) number for your farm. The first you can complete and get at the Conservation Office and the second at the FSA office in Grayson.
The last thing that is absolutely required is attendance at an educational program, which is approved by me. Speaking of which, the Insect Vectors program spoken of in another part of this newsletter and the flyer included, is one such program already scheduled. Attendance at an approved educational program is valid for up to 6 months, as far as CAIP is concerned.
So, if you are planning on applying for the CAIP program, I would very much suggest that you attend this program to get your certification for the CAIP application.
Call Stephanie at the Boyd County Conservation Office at (606) 928-8027 for more information if you live in Boyd County. If you live in another Kentucky county, call your local county administrator or county ag Extension agent for details on the CAIP program in that county.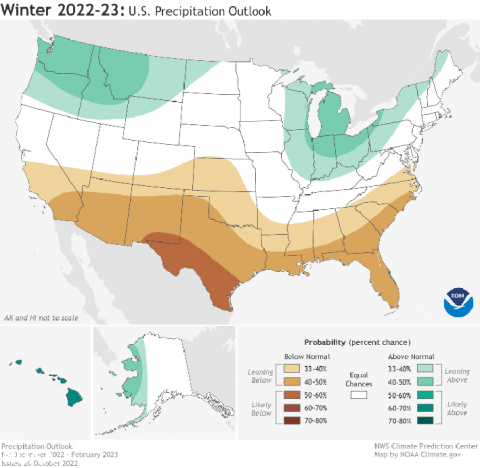 The Winter Outlook
By Derrick Snyder – National Weather Service, Paducah, KY
The winter outlook made by the Climate Prediction Center covers the months of December, January, and February. It is not possible to give a day by day forecast of what will happen, but it is possible to forecast whether a region will see a greater chance of above or below normal temperatures and precipitation (rain and melted snow and ice). If there is not a strong signal either way, the outlook will say that a region will have an equal chance of seeing above, below, or near normal temperatures and precipitation. It is important to remember that these outlooks cover a three month period. Periods of cold weather can occur when above normal temperatures are favored, and the opposite can happen when below normal temperatures are favored. The same rule also applies for precipitation.
For Kentucky, there was not a strong enough signal to forecast above or below normal temperatures during this upcoming winter, so the entire state has an equal chance of seeing above, below, or near normal temperatures. For precipitation, the northern portion of the state slightly favors above normal precipitation, while the rest of the state has an equal chance of seeing above, below, or near normal precipitation. How will this play out over the winter? We shall have to wait and see!
Insect Vector Program
On Dec. 6 at 6:30 p.m., we will be offering a new program. I am calling it, "Insect Vectors of Cattle and Horse Diseases." This program is eligible to count as CAIP education credits for Boyd, Carter, Lawrence, and Greenup counties. If you are in another county in Kentucky, ask your Ag Extension agent if it meets their approval.
The program will cover how to identify and control various insects and the diseases they carry that can infect cattle and/or horses. These could be ticks, mosquitoes, or whatever.
Some of the diseases that may be covered are West Nile Virus, Theileria, Lyme disease, Eastern and Western Equine Encephalitis, and others.
Hay ID and Usage Program
We will be hosting a program on hay on Dec. 8 at 6:30 p.m. at the Extension office in Catlettsburg. The program will cover:
· How to identify hay, in the field and in bales
· How to determine hay quality
· How to determine the type and quality of hay I need for my animals
· Types of hay typically available for purchase
· Bale type suitable for my needs
· How to properly feed hay to minimize waste
· Any questions you may have
Presenters will be Dr. Jimmy Henning, UK Extension Forage Specialist, and  Dr. Bob Coleman, UK Extension Equine Specialist. This program will count as an Education Program for the upcoming CAIP program in Boyd County.
No advanced sign-up needed. 
Educational programs of Kentucky Cooperative Extension serve all people regardless of economic or social status and will not discriminate on the basis of race, color, ethnic origin, national origin, creed, religion, political belief, sex, sexual orientation, gender identity, gender expression, pregnancy, marital status, genetic information, age, veteran status, or physical or mental disability. UNIVERSITY OF KENTUCKY, KENTUCKY STATE UNIVERSITY, U.S. DEPARTMENT OF AGRICULTURE, AND KENTUCKY COUNTIES, COOPERATING